Thanks for singing up. Please check your inbox (or spam) for confirmation!
You will be contacted as soon as the next intake is open.
NEXT START DATE 25th OCTOBER
what is The lean strong method?
Put yourself in control with a clear path to lose fat, build muscle,
and feel more confident than ever.
Eating the foods you enjoy, without spending hours in the gym,
and still having a social life!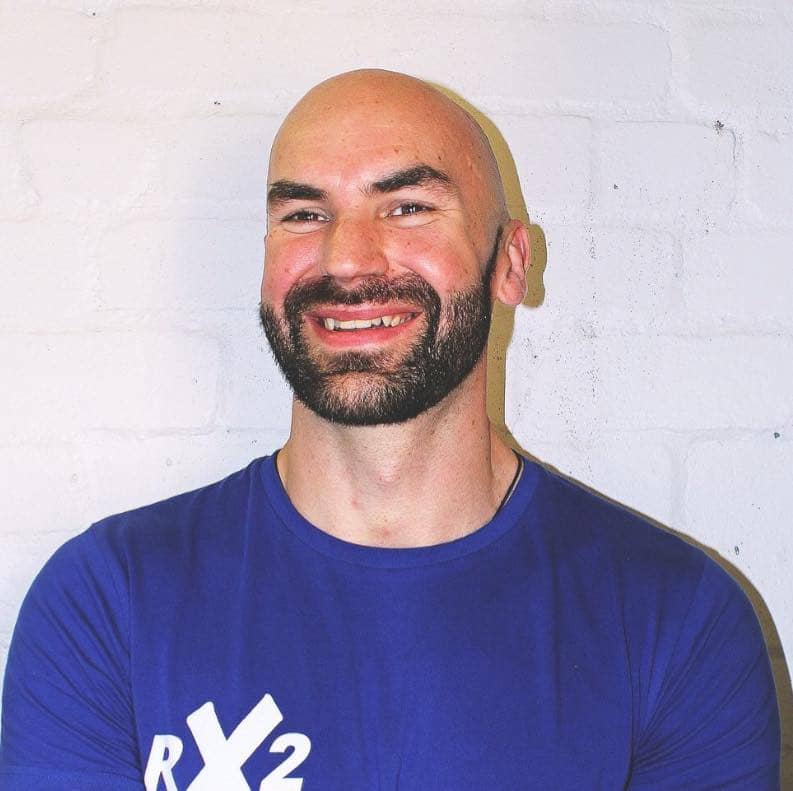 Life is too short to keep starting new diets and training plans
Feeling tired of starting a new plan, trying to fit your lifestyle to a plan instead of the other way around.
Ending up back at square one – or worse off than when you started?
Frustrating, isn't it?
SAVE YOUR PRECIOUS TIME AND START ACHIEVING SUSTAINABLE RESULTS
Personalised Nutrition
Removing the frustrating and building from simplicity in your diet.  Ensuring that you enjoy what you eat, when you want to eat it, and know that it's adaptable to any situation while meeting your nutrition goals for life.
Customised Workout Plans
No matter if you are new to the gym, experienced, or prefer to workout at home, there are workouts plan to accommodate this.  They can also be further customised to meet you where you're at.
Ongoing Support
You are fully supported within the group by myself.  There are weekly Q&As with the option for 1-1 check-ins for any required adjustments.
There is more to life than sacrificing your lifestyle and torturing yourself in the gym just to hopefully weigh less, hopefully feel a little stronger, and see if the weekend doesn't result in starting again next week.
Sign up for the program and request access to the Private Community Facebook Group.
View your Member profile through the app or laptop and join the welcome overview.
Through the educational modules, daily support, and weekly check-in feedback videos, enjoy your results.
Over the 6 weeks you will be covering the main areas of nutrition, training, and mindset for your success.
Each week you are guided by easy to consume modules, breaking things down so that you can say goodbye to extremes and get amazing results.
Providing The Support You Need
You are provided with honest and simple to understand answers whenever help is needed.
Join The Lean strong method
Custom Training Plan (Gym or Home)
Nutrition program and guidance
Habit and routine developing
Private Facebook Community
Weekly Check-ins
Nutrition Guides
Recipe Packs
High-Street Restaurant Guides
Education & Guidance 
Daily accountability
Lasting Results
NO MORE BORING MEAL PLANS
You get access to numerous recipe packs with simple macro-calculated recipes.
With breakfasts, lunches, dinners, and snacks, all with a barcode that in scanned straight to MyFitnessPal.
With clear and minimal instruction to save you the hassle and time or preparing flavour filled recipes.
EAT OUT WITHOUT THE STRESS
No long will you need to avoid social situations with over 15 coffee shops and resteraunts.
Easy to navigate menus to ensure that you get a full calorie and macro breakdown.
Covering all the popular options, whether it's for a quick coffee, a casual lunch, or an evening dinner.
And the best part is that they are yours for life to keep, so you don't need to stress about losing them after the program.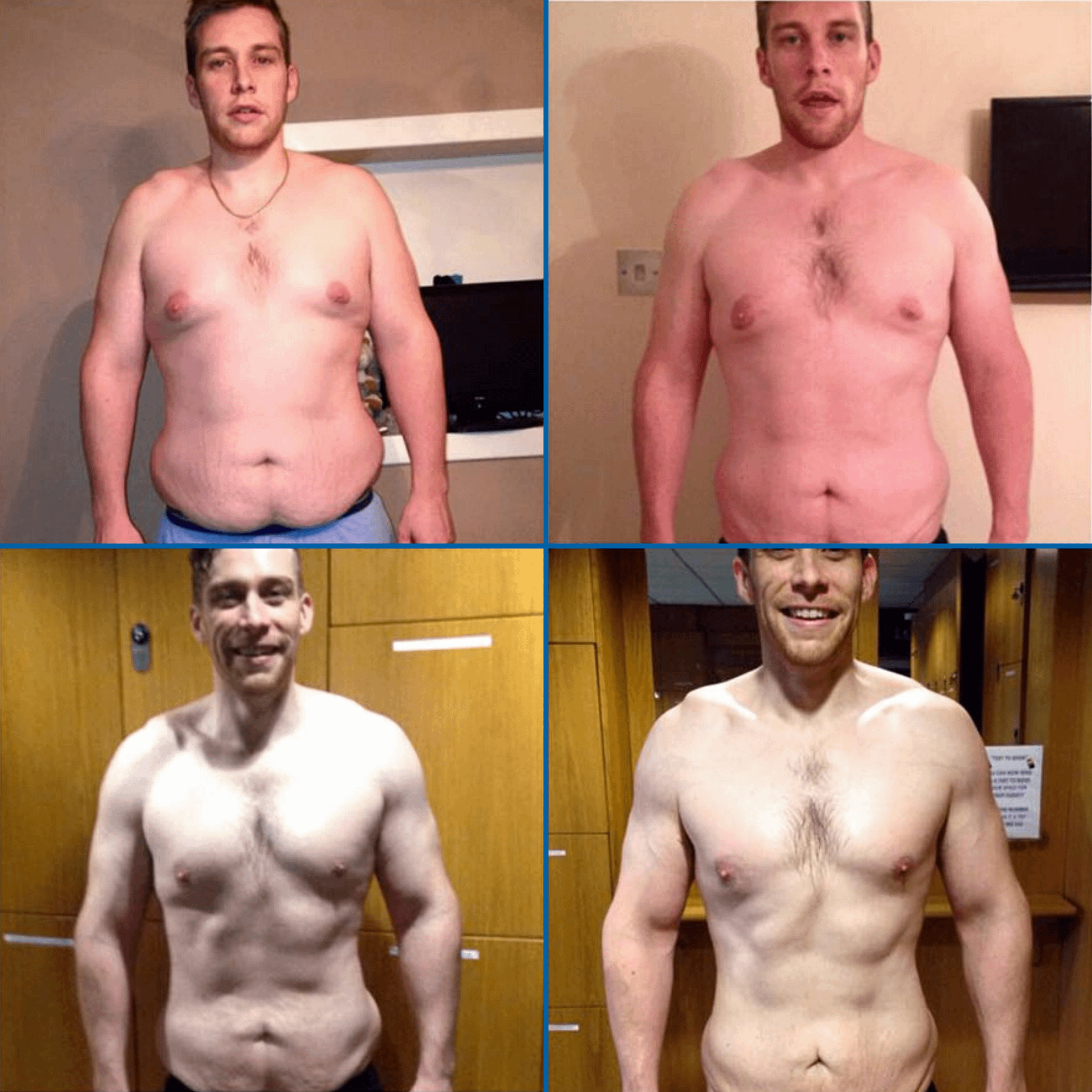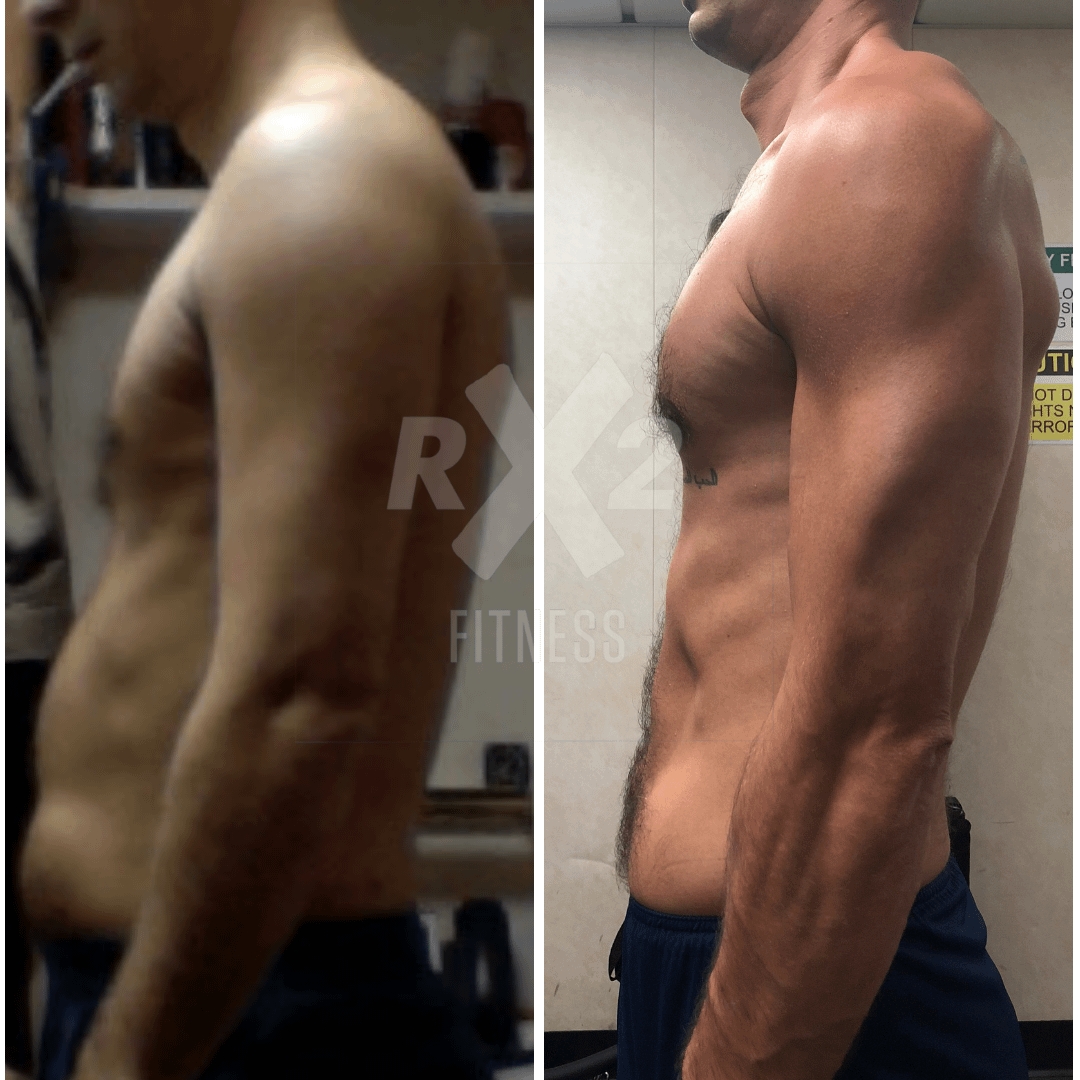 "

Roy initially asked what I hoped to achieve after signing up and my main focus was weight loss. I have lost 6kg in weight and as an added bonus I have gained muscle and am feeling and looking much trimmer. "
Do I need to have gym experience?
Although this program is for all levels it is recommended that you have at least 12 months of exercise/training experience within the gym.
If you are less experienced and lack confidence then this is ok. The workouts will accommodate this along with the option to change any exercises that you cannot do.
I am really out of shape. Will this be right for me?
This program is designed to give you everything you need in order to guarantee results.
If you feel that you are out of shape then the methods and support within this program will help with this. 
If you stick to the plan and use the support in the private Facebook community, you will achieve the transformation you seek out. Like anything, if you apply simple and effective methods, you will get the best from it.
I'm not a member of a gym, does this matter?
It is beneficial to be a member of a gym due to the amount of exercise equipment available to you. However, if you don't have a gym membership, that's perfectly OK as there are also workouts for home and outdoors.  All options are covered.
Many people have achieved exercises & training results with minimal equipment at home.
What if something comes up within the 6 weeks?
Don't worry, I'll have you covered. Whatever your circumstances, you will be supported to ensure you're still able to make progress.  
The methods taught and applied within the program will help you see that life 'happens' and that you can progress no matter what.
Do I need to be on Facebook to join?
Yes. Although you will have your own member profile created on the app that is not linked to Facebook, all of the support, Live Q&As, and check-in feedback will be hosted within the FB group.
If you don't have one then some people create a dummy profile just for this.
You say that I will have a profile?
Yes, a member profile is created that will have your recipes, guides, nutrition guidelines, workout program, and other tracking for all your progress. This is shared and accessed only by myself and you to ensure your progress and learning.
What doesn't get measured, can't get managed.
Will I get a meal plan to follow?
Following a meal plan teaches you nothing and can do more harm than good. I want to teach you how to be able to eat the food you enjoy and incorporate it into your lifestyle while still hitting your goals. The goal of the program is to educate and support you in your own nutrition – if this means that you require an example meal plan for guidance, then you can receive one, but not as a dieting method.
"

Last year I saw a personal trainer for 2 months, which left me with unsustainable nutrition and exercise advice. 

Following Roy's program, I've now got more knowledge on nutrition, and confidence with weightlifting to go out on my own and continue seeing results.

"